MM Optical Loss Test Set + VisiTester KI27603-Ge
An Optical Loss Test Set used to test power, insertion loss, continuity and faults on multimode fiber optic systems at 850 / 1300 nm. In a small package, it provides a powerful solution to improve test flexibility and productivity.
The 650 nm VFL Visitester feature mixes a VFL in with the test signal during Autotest. In addition to operating as a typical VFL, it gives positive visual identification of a fiber to be connected for loss testing.
Easy to use, slim, rugged & versatile

EF compliant multimode sources

Excellent source stability
Large clear LCD is sunlight readable & backlit
Large memory with Text Tag & time stamp
One button memory dump to USB key
KITS™ reporting software

 

for acquisition and reporting
Autotest power meter
1 % accuracy & 31 calibrated λ, ISO 17025 traceable 
Interchangeable connectors with dust cap & tilt bail
Multi-Fiber ID Test tone generator / detector
Long alkaline battery life with micro USB external power / charger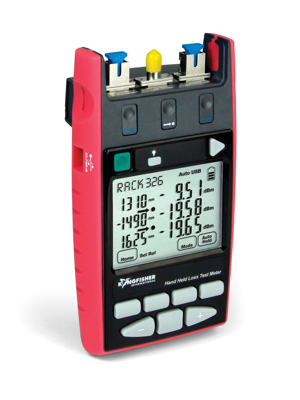 Brochure (PDF)